Joshua Bell accepts 16th Glashütte Original MusicFestivalAward
German watchmaker honours American violinist's cultural commitment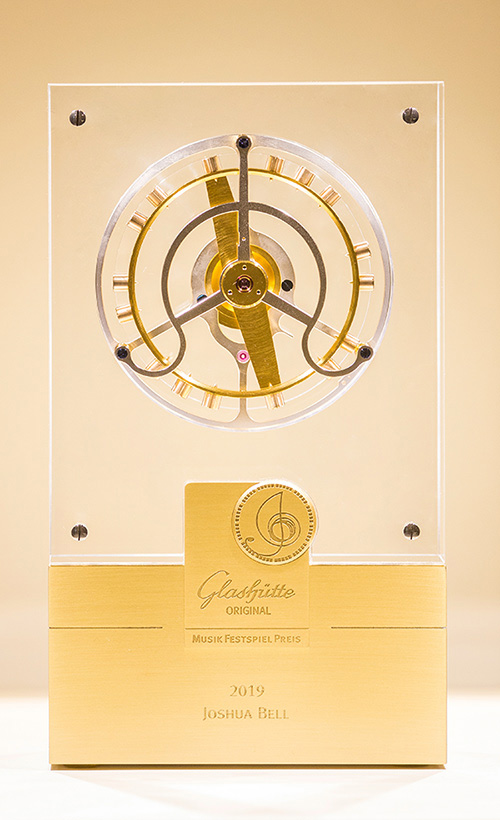 On Monday evening the violinist Joshua Bell accepted the 16th Glashütte Original MusicFestivalAward. Glashütte Original managing director Frank Kittel presented the award in the festive setting of the Frauenkirche in Dresden, on the occasion of the violinist's concert. The 25,000 Euro award, hand-crafted by two students from the Glashütte manufactory's watchmaking school, was awarded to Bell for his many years of commitment to cultural understanding and support for the development of young artists.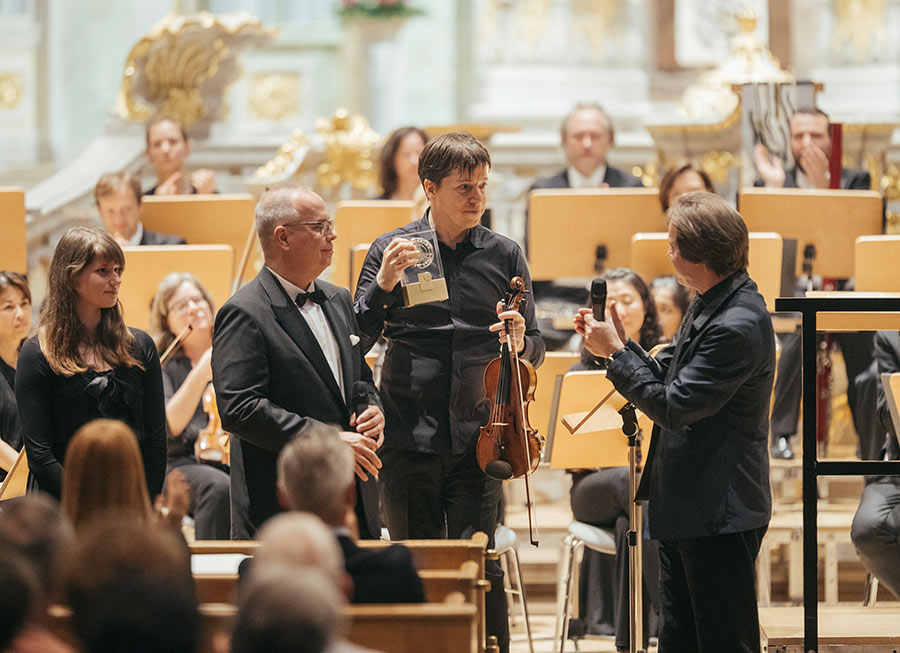 Award ceremony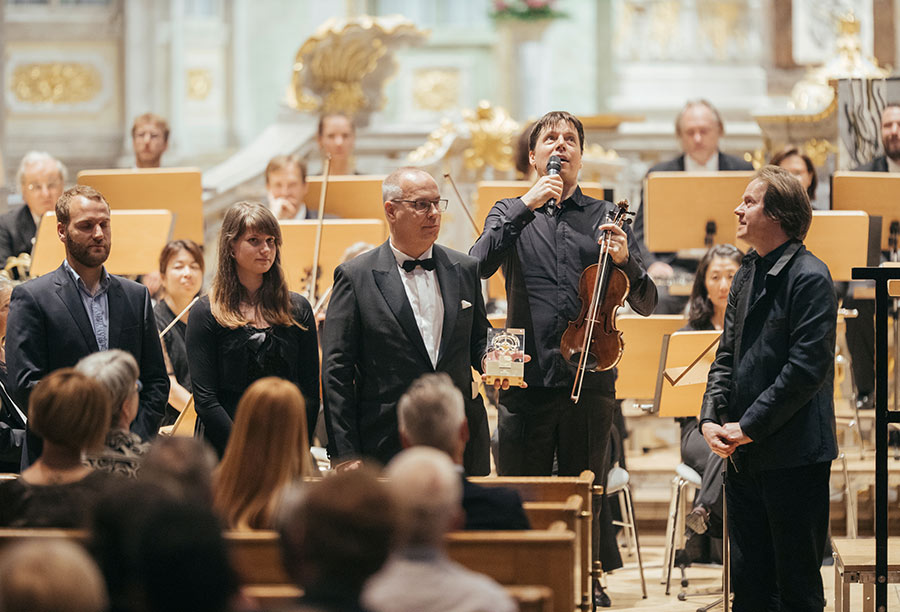 Award ceremony
Joshua Bell, one of the greatest violinists of our time, accepted the 25,000 Euro award in the Dresden Frauenkirche from Frank Kittel, managing director and Chief Financial Officer of Glashütte Original, and Jan Vogel, director of the Dresden Music Festival.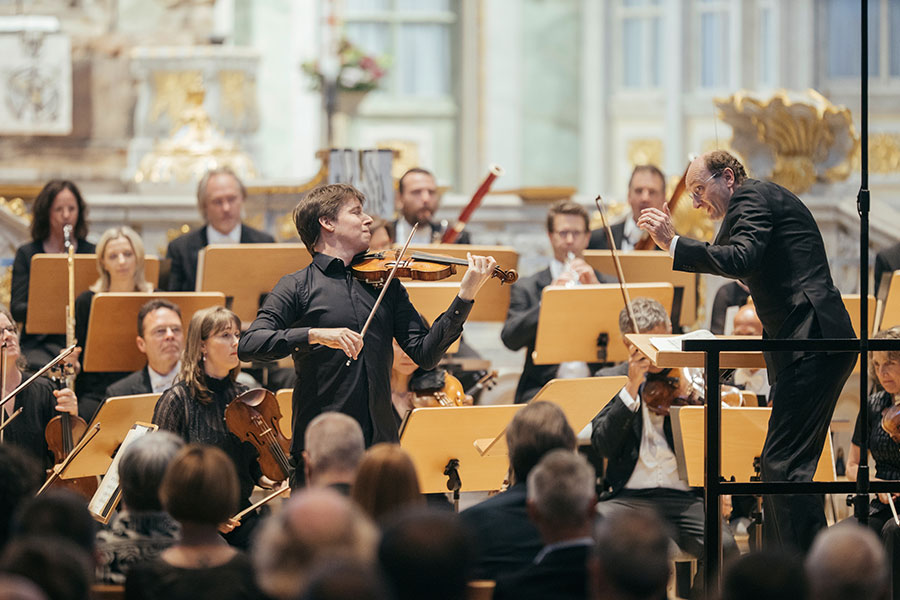 The Saxon watchmaker and the Dresden Music Festival honoured the American for his exceptional cultural and social commitment. His conception of music as a way to further transcultural understanding is also evident in the NAMM Foundation's school reform project, "Education Through Music and Turnaround Arts", which offers disadvantaged children a variety of ways to approach classical music. Bell is also involved in supporting the string players of the National Young Arts Foundation, a charity dedicated to furthering the development of emerging artists at high schools. Bell also teaches at his alma mater, the Jacobs School of Music.
Visibly moved, the award winner said, "I am profoundly honoured to receive this year's Glashütte Original MusicFestivalAward, and wish to thank Glashütte Original and the Dresden Music Festival. Few things in life give me greater pleasure than to share my love of music with the next generation."
Joshua Bell and the Camerata Salzburg under the direction of Andrew Manze gave a brilliant performance, delighting the audience in the Frauenkirche with works by Sibelius, Dvořák and Beethoven.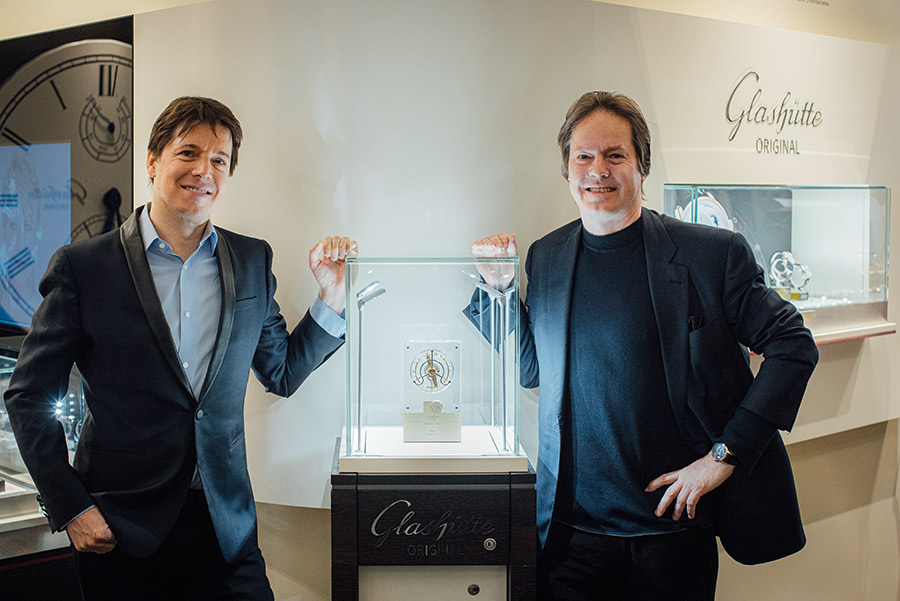 Presstalk Joshua Bell Jan Vogler
Glashütte Original MusicFestivalAward celebrates its 16th edition
With the award to Joshua Bell, Glashütte Original and the Dresden Music Festival honoured, for the 16th time, an outstanding representative of the world of music who has rendered exceptional service to classical music and the development of emerging talent. Every year two students from Glashütte Original's own "Alfred Helwig" watchmaking school build the award trophy, which combines traditional craftsmanship with contemporary materials. The cantilevered "flying" tourbillon symbolises the virtuosity of watchmakers and is considered representative of the art of watchmaking at its best.
As winner of the award, Joshua Bell succeeds artists such as Joyce DiDonato, Sir Simon Rattle and the Berlin Philharmonic, fado singer Mariza, conductor Andris Nelsons and cellist Steven Isserlis, among others. Glashütte Original has been a supporting partner of the Dresden Music Festival since 2004; the motto of the Festival this year is "Visions". Exceptional artists will perform in a great variety of venues during this 42nd edition of the renowned festival, which runs through to the 10th of June.
https://www.glashuette-original.com/jos ... tivalaward