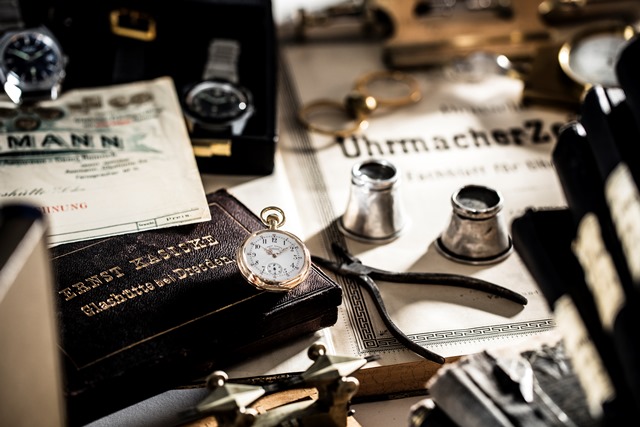 International gathering for distributors and watch enthusiasts
The fourth Glashütte Antique Watch Market will take place on Sunday, May 14, 2017. Distributors, collectors and other people interested in watches get the opportunity to present their historical timekeepers in the German Watch Museum Glashütte and in the atrium of the Glashütte Original manufactory. Watches from all regions and periods in the past will be offered for sale or exchange, along with spare parts, tools, accessories, literature, and all kinds of collectors' objects.
The demand of national and international distributors is that high, that three months before the event takes place, only a few metres of exhibition space are left for renting. The Watch Fair is open from 10:00 am to 5:00 pm A day ticket for € 4,50 is valid for both event venues as well as a visit to the Museum's permanent exhibition.
Invitation to the 2nd Watch Roundtable
With over 60 participants, the first Watch Roundtable in 2016 was very successful and is now a regular part of the Glashütte Antique Watch Market program. The German Watch Museum Glashütte is pleased to invite to the Second Watch Roundtable, set to take place on Saturday, May 13, 2017, the evening before the Antique Watch Market. The event starts in the "Landgasthof Börnchen", nearby Glashütte, at 6.00 p.m. Interested watch enthusiasts and collectors will meet in comfortable surroundings to talk with other connoisseurs and exchange experiences.
For further information on the Antique Watch Market and the Watch Roundtable, please contact Mr. Roscher via email
Lutz.Roscher@uhrenmuseum-glashuette.com
or by phone +49 35053 46 12 105.
Glashütte TIME-Experience
In addition to the Glashütte Antique Watch Market, a colorful hustle and bustle for the entire family takes place on Sunday, May 14, 2017, from 10:00 am to 6:00 pm in the town of Glashütte. The visitors can experience live music, dancing, showmen, a creative area for children, a Glashütte craft market, and much more. All shops are open and invite visitors to stroll, to buy or just to have a look around. At
http://www.glashuette-sachs.de
you will find more information on the Glashütte TIME-Experience.
http://www.uhrenmuseum-glashuette.com/e ... renboerse/