Talking About Trees" wins Glashütte Original – Documentary Award 2019
Glashütte Original supported the 69th Berlinale as Partner and Award sponsor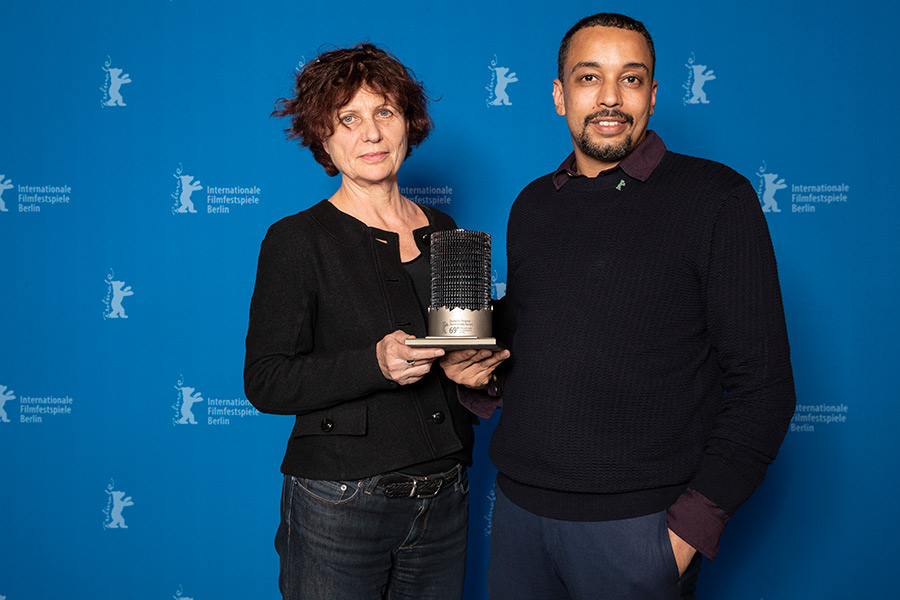 Director Suhaib Gasmelbari and producer Marie Balducchi with the award trophy Copyright Cecile Mella
Glashütte Original offers heartfelt congratulations to Suhaib Gasmelbari, who has won the Glashütte Original – Documentary Award at the 69th Berlin International Film Festival. The Sudanese filmmaker was honoured for his film, "Talking About Trees", a documentary on the history of the Sudanese cinema. The award, donated by the Saxon watch manufactory and endowed with 50,000 euros, was presented Saturday evening during the official award ceremonies at the Berlinale Palace. Glashütte Original also supported the 69th Berlinale as a sponsor this year.
The presentation of the Glashütte Original – Documentary Award was a highlight of the glamourous gala evening, as exciting as ever, that brought the 69th Berlin International Film Festival to a close. Suhaib Gasmelbari, who wrote the screenplay, directed and was the camera operator for the winning film, accepted the award from the renowned jury. In his acceptance speech Suhaib Gasmelbari was evidently very moved, and chose to address his compatriots as well: "At this point I would like to send a message of solidarity to the people of the Sudan, who are still fighting for their freedom today."
The film's producer, Marie Balducchi, thanked Suhaib Gasmelbari for his commitment with the following words: "What he has created is a masterpiece. It is the story of courage, of friendship, and of the cinema."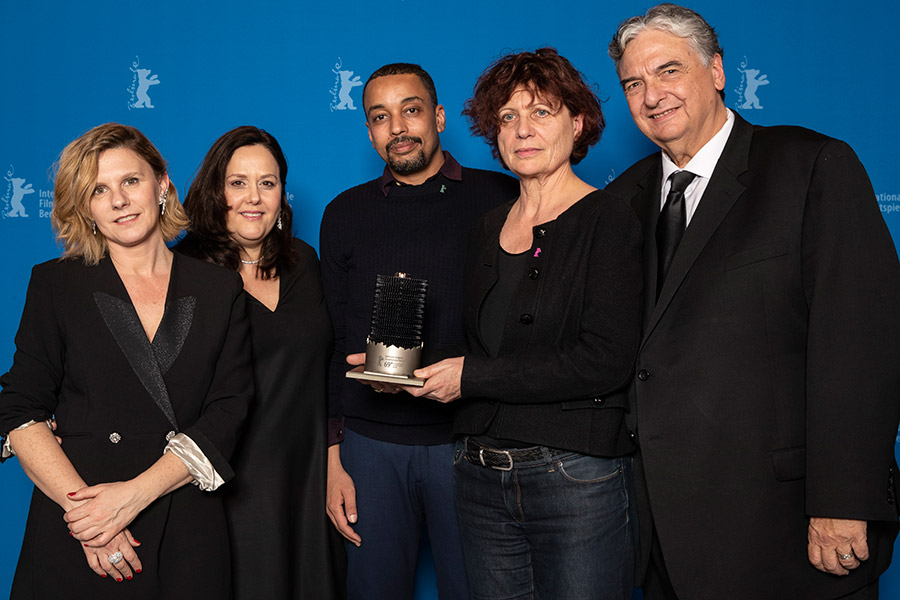 Director Suhaib Gasmelbari and producer Marie Balducchi with the jury Copyright Cecile Mella
Jury members Maria Bonsanti, Maria Ramos and Gregory Nava honoured "Talking About Trees" in their eulogy as "an exceptional expression of film as an art form, and of the cinema as a powerful instrument of resistance and as a universal language." They had selected the film from 17 current documentaries nominated for the Award by different sections of the Festival. Glashütte Original, as sponsor of the Award, was particularly supportive of the documentary form.
The Glashütte Original – Documentary Award is characterized by more than just the recognition that comes with the Award and the € 50,000 in prize money. The trophy, too, has a special story to tell. The statuette, 20 centimetres high, was made by employees of the Saxon watchmaker, crafted by hand in brass, brushed stainless steel and acrylic resin. It takes the shape of toothed gears arranged to form a column, which also evokes rolls of film, symbolizing the many different facets of the connection between the art of filmmaking and that of making watches.
www.glashuette-original.com