Berlinale to award Glashütte Original - sponsored prize again this year
This year, for the second time ever, the Berlin International Film Festival will present the Glashütte Original - Documentary Award, which was established in 2017 thanks to the support of watch manufacturer Glashütte Original from Saxony.
The Glashütte Original - Documentary Award is endowed with € 50,000, funded by Glashütte Original. The prize money will be split between the film's director and producer. A total of 18 documentary entries from the current programmes of the Competition, Berlinale Special, Panorama, Forum, Generation and Perspektive Deutsches Kino sections and the special presentation Culinary Cinema are nominated for the Glashütte Original - Documentary Award.
The prize will be presented during the official Award Ceremony in the Berlinale Palast on February 24. In addition to the prize money, Glashütte Original will also provide the trophy, which will be finely crafted in the company's manufactory in Saxony.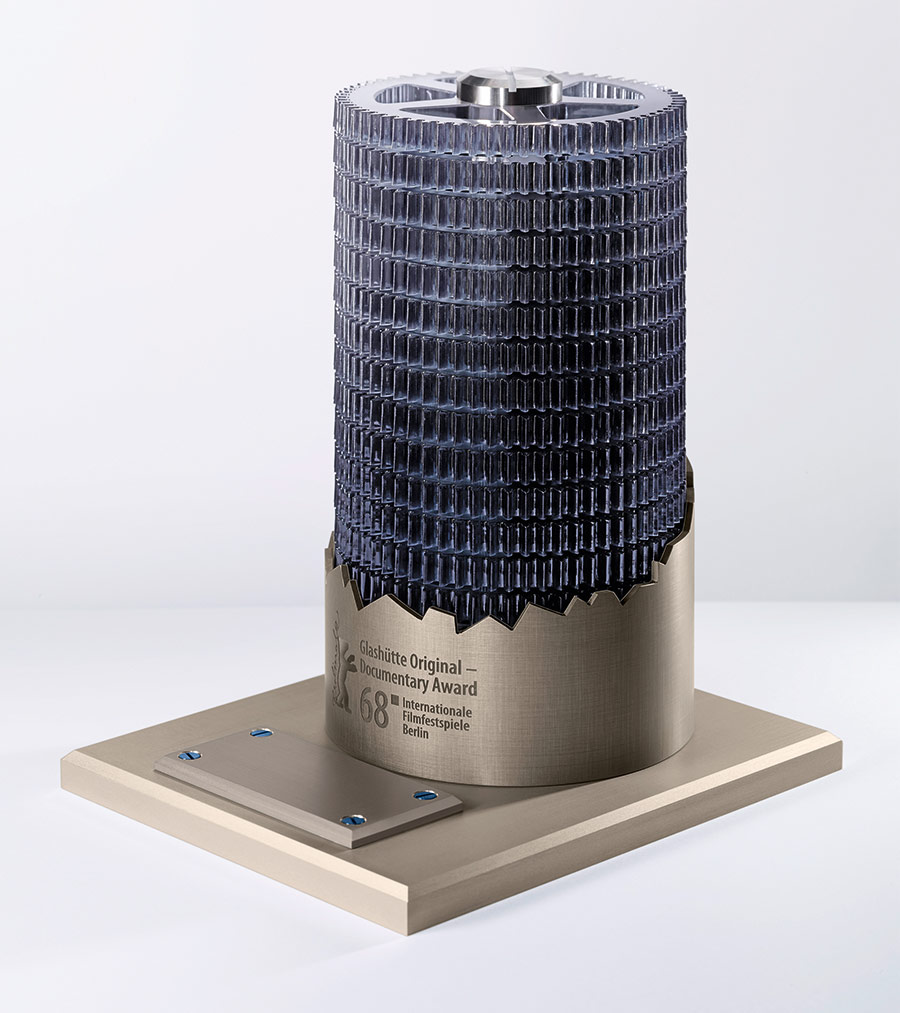 A three-member jury will pick the winner:
Cíntia Gil (Portugal)
Born in Portugal, Cíntia Gil studied at the Escola Superior de Teatro e Cinema (Lisbon Theatre and Film School) and holds a degree in Philosophy from the Faculdade de Letras da Universidade do Porto (Faculty of Arts and Humanities at the University of Porto), where she has also taught seminars on aesthetics. Since 2012, Cíntia Gil and Davide Oberto have served as co-directors of the Doclisboa, Portugal's most important and steadily expanding documentary film festival. Gil has curated a variety of contemporary and historical film series, retrospectives, and exhibitions. In addition, she has been a member of the executive board of Apordoc – Associação pelo Documentário, the Portuguese documentary film association since 2015. Gil, whose texts have appeared in numerous publications on philosophy and art, is also a regular guest at panel discussions and conferences, and on international festival juries.
Ulrike Ottinger (Germany)
By the 1970s Ulrike Ottinger had established herself as one of Germany's most important and versatile directors. A Berliner by choice, her best known films, for which she also wrote the scripts and operated the camera, include The Enchantment of the Blue Sailors (1975); the "Berlin trilogy" - Ticket of No Return (1979), Freak Orlando (1981), and Dorian Gray in the Mirror of the Yellow Press (1984); as well as The Korean Wedding Chest (2008); and Johanna d'Arc of Mongolia (1989), for which she received a German Film Award and the Audience Award at the Montréal Women's Film Festival. Ottinger, who as an artist and photographer has participated in international exhibitions, is a regular at the Berlinale. Most recently, in 2011, she presented Under Snow; in 2016, the 12-hour documentary Chamisso's Shadow, which opened the Forum and won the German Film Critics Award. Ottinger's works have often been shown at renowned institutions, such as the Cinémathèque française, Centre Pompidou, New York's MoMA, and the documenta in Kassel.
Eric Schlosser (USA)
Eric Schlosser is an investigative journalist, playwright, screenwriter, and filmmaker. His book "Fast Food Nation: The Dark Side of the All-American Meal" (2001) became an international bestseller and contributed decisively to the growing rebellion against the industrialisation of food production. In 2014, his book "Command and Control" became a finalist for the Pulitzer Prize. As a producer, he worked on Richard Linklater's screen adaptation of Fast Food Nation (2006), Paul Thomas Anderson's There Will Be Blood (2007), and the Oscar-nominated documentary Food, Inc., which screened in the Berlinale Special in 2009. As co-director of the bomb, an experimental film on the history of the atomic bomb, Schlosser was invited to the Berlinale Special in 2017. His articles have appeared in, e.g., the New York Times, The New Yorker, The Atlantic Monthly, and Vanity Fair.
Glashütte Original - Documentary Award 2018 E" lang="EN-US">
Nominated films
The following films are nominated for the Glashütte Original - Documentary Award:
Competition – Out of competition (1)
Eldorado
Switzerland / Germany
By Markus Imhoof
Berlinale Special (1)
Viaje a los Pueblos Fumigados (A Journey to the Fumigated Towns)
Argentina
By Fernando Solanas
Panorama (6)
Al Gami'ya (What Comes Around)
Lebanon / Egypt / Greece / Qatar / Slovenia
By Reem Saleh
Až přijde válka (When the War Comes)
Czech Republic / Croatia
By Jan Gebert
Ex Pajé (Ex Shaman)
Brazil
By Luiz Bolognesi
Game Girls
France / Germany
By Alina Skrzeszewska
Obscuro Barocco
France / Greece
By Evangelia Kranioti
Zentralflughafen THF (Central Airport THF)
Germany / France / Brazil
By Karim Aïnouz
Forum (5)
Den' Pobedy (Victory Day)
Germany
By Sergei Loznitsa
L'empire de la perfection (In the Realm of Perfection)
France
By Julien Faraut
Minatomachi (Inland Sea)
Japan / USA
By Kazuhiro Soda
Premières solitudes (Young Solitude)
France
By Claire Simon
Waldheims Walzer
Austria
By Ruth Beckermann
Generation (2)
Ceres
Belgium / Netherlands
By Janet van den Brand
What Walaa Wants
Canada / Denmark
By Christy Garland
Perspektive Deutsches Kino (2)
The Best Thing You Can Do With Your Life
Germany / Mexico
By Zita Erffa
draußen
Germany
By Johanna Sunder-Plassmann, Tama Tobias-Macht
Culinary Cinema (1)
The Green Lie
Austria
By Werner Boote
All nominated films will celebrate their world premiere at the Berlinale 2018.
Some images of the assembly of the price.